My brother Curtis was a professor of architecture at Cal Poly, San Luis Obispo. I called him and explained my dealership facility problem. He listened and asked me to describe the style of dealership we wanted. I told him we wanted a luxury car dealership but that it had to be done in such a way that it was unmistakable to people driving by that it was a Lexus dealership. Curtis told me to find someone inside Toyota who was familiar with the car, had a true understanding of the culture of the company, and knew about Lexus. That person should design the dealership. He then told me to go back to my Lexus people and complete this sentence with three adjectives: "Lexus wants a luxury car dealership that looks 1)________, 2)__________, and 3)_________." Curtis told me that after we selected the three adjectives to describe the dealership, we needed to be sure to look up the definition of each word and be certain it accurately portrayed our needs.
We came up with three words:
1. Warm: friendly, cordial, amiable, and kind; showing friendship
2. Strong: secure, well-built, and solid; having the ability to perform a difficult task
3. Classy: having the qualities that make something special, timeless, and attractive
Lexus wanted a luxury car dealership that looked warm, strong, and classy. 
Next, we contacted the Toyota Calty Design Studio located in Newport Beach, California and enlisted the services of one of the designers, Jim Sherburne. A short time later he presented a drawing of the new Lexus facility. He got a similar reaction to that of Molly Sanders when presenting us with the Lexus logo. Everyone was immediately thrilled.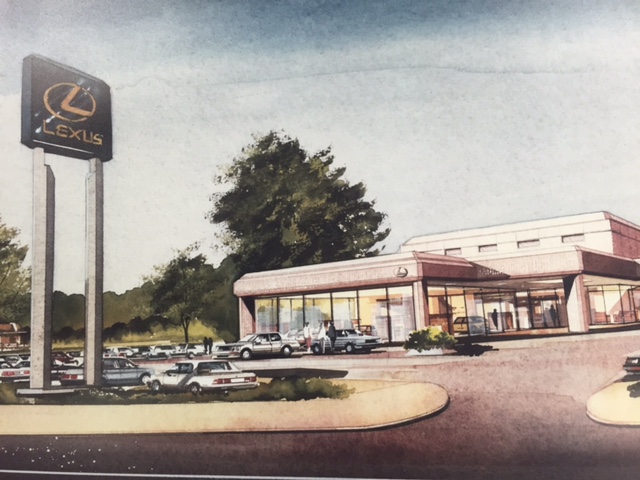 We all dreaded the reaction we might get from Jim Perkins and Bob McCurry. Perkins had the same response as the rest of us and did not hesitate to give his approval. McCurry was the final hurdle. He studied the sketch carefully. I could tell he was conflicted. He didn't agree with making the dealers build our building, but he liked the dealership and saw the potential. He knew I was squirming, but he also knew this facility was the right decision. McCurry made you fight for what you believed. He slid the drawing back across the desk towards me and said, "OK, but you better make it work!"
I acted nonchalant, as if this was no big deal, but fireworks were exploding in my head, and I was glowing inside. Hallelujah! We had not given up, and we got it right. It was a great feeling.
"A brother is born to help in a time of need." Proverbs 17:17 (NLT)
____________________________________________________________________________________________
We had two new cars, 81 new dealers, and an all-new dealership facility. Now it was time to find an advertising agency. Lexus would be a prized account to win with an estimated $50 million of billing each year. Everyone's an expert when it comes to advertising. Yuki Togo and the Japan staff wanted a small boutique agency. Perkins and McCurry wanted a big agency with buying power. Six agencies would compete for the Lexus account. Toyota's Saatchi & Saatchi agency was not available. Naturally, it would get emotional. Boutique, small, medium, or large, all I wanted to do was to survive the process.

(To be continued in "Team One Comes out of Nowhere")