The demolition of the Berlin Wall had begun, and Mikhail Gorbachev of the Soviet Union was awarded the Nobel Peace Prize. Nelson Mandella was released from prison after 27 years and became leader of the African National Congress. Michael Jordan led the Chicago Bulls to their sixth NBA championship, Home Alone was the movie hit of the year, and General Motors launched its Saturn division. Amidst all of that, the U.S. economy was headed into a recession as the Federal Reserve policies were implemented to curb inflation while the housing market collapsed. In addition, a crippling 10% excise tax was levied by the U.S. government on all imported cars costing more than $30,000.
Auto industry sales in 1990 were a weak 13.8 million. With the economy in recession and the Gulf War looming in the future, auto executives were not optimistic. John Middleton, the general manager of the Pontiac division said, "Business is tough. A new car is a postponable purchase, and that's just what Americans are doing right now, postponing the purchase." Bob Lutz, Chrysler Corporation president, stated, "Even if the Mideast crisis is resolved, we have a huge budget deficit, huge consumer indebtedness, and a bank and savings and loan system in bad shape in a credit-driven society."
Despite all the negativity, Lexus was doing well. In the 1990 year-end review of the automotive winners and losers, USA Today declared the Lexus LS400 an "instant classic." The LS400 far exceeded its sales goal of 40,000 with 43,022 sales. The ES250 also made its sales goal of 20,000 at 20,612 sales. In a weak market, Lexus exceeded its yearly sales objective of 60,000 with 63,534 sales.
There was good news in the customer satisfaction area. The New Vehicle Sales Delivery Survey (NVSDS) came in at 94.1%. The Lexus Service Survey (LSS) came in at 91.4%. The Overall Satisfaction Index (OSI) came in at 93.5% and the follow-up calls at 91.7%.
Every objective Lexus had set for 1990 had been achieved, which meant that everyone could turn their "Little Engine That Could" around so it was going downhill with the words inscribed, "I thought I could, I thought I could."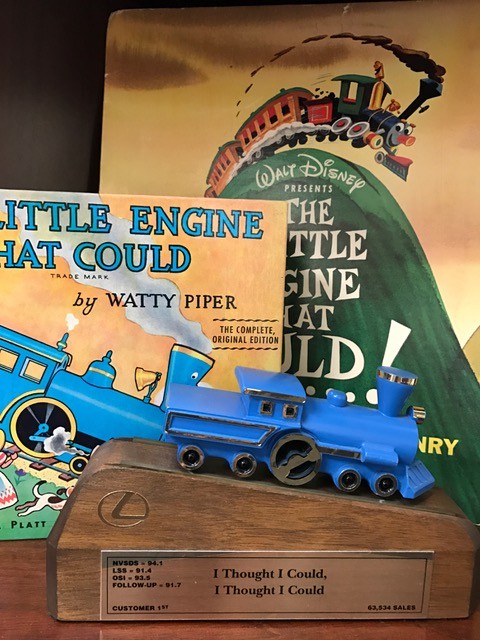 "It's good to give thanks to the Lord and sing praises to his name." Psalm 92:1 (NLT)
As 1991 began, the Gulf War looked inevitable, creating a lot of uncertainty about what the year would bring for Lexus.
(To be continued in "War and Car Sales Don't Mix")